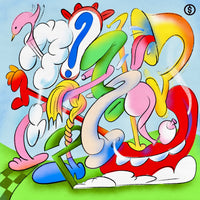 What's it all for?
Too often do we get stuck in this cycle, lost in it's feedback until our thoughts become a piercing hiss. Is searching for something that matters comparatively to societies expectations of happiness, success, beauty, freedom, etc. "healthy"? How can we re-examine our internal dialogue to project a "healthier" reality that may have been there all along? 
Sure, making music is a form of therapy to help cope with these questions; providing a space for ourselves to explore without boundaries or judgement. Furthermore, sharing that music can allow it's listener to sort through some existential questions of their own. Divert a crisis perhaps, gain a new perspective, reach for forgiveness instead of anger, or simply alleviate life's struggles for 3 brief minutes. Enjoy! 
LISTEN
Sweet Talkin' Melody NFT
The "Sweet Talkin' Melody NFT" is the genesis NFT project from NBF.  Exploring new tools, the band has taken a fine art approach to a song that speaks to artists' mental health. This project is years in the making combining a finely crafted song, recording, hand drawn and animated artwork with a finite release of just 55 pieces.  The song will not be available anywhere else. This NFT will be a key so to speak for the future releases of New Beat Fund songs.  Thank you for being here with us.
MINT